Concerts
Listen, there is so much beauty to save
Concert in support of the Ukrainian people
mercredi 15 juin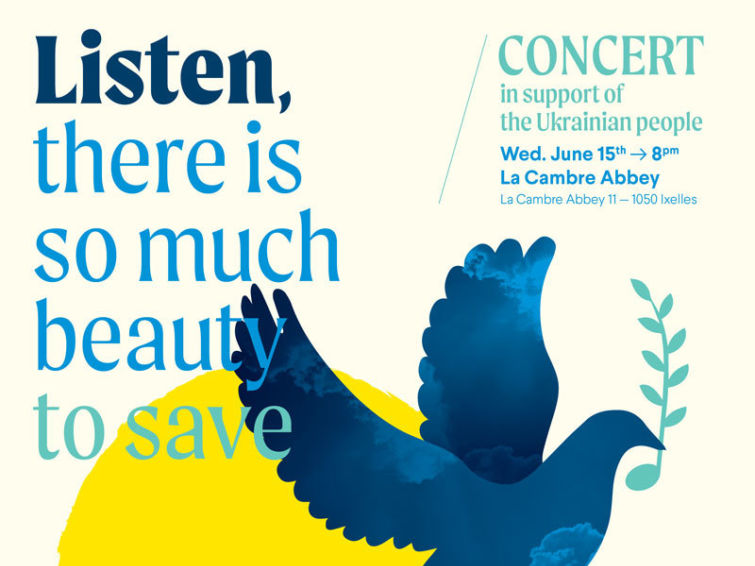 Réserver
Le Jacques Franck soutient cette initiative portée par un collectif de citoyens et de musiciens pour venir en aide au peuple ukrainien. De nombreux artistes s'unissent sur scène pour témoigner ensemble du vrai visage de l'humanité. Ce sont les valeurs de paix et de fraternité que ce concert chante et veut élever.

On the initiative of a group of citizens and musicians concerned with bringing a symbol of peace and hope in the heart of Europe, a classical music concert will be given on Wednesday 15 June at 8pm at the Abbaye de La Cambre (Ixelles).
A varied programme (Schumann, Liszt, Debussy, Ravel, Rachmaninov, Sibelius, Gliere …) will be offered by some fifteen musicians of different nationalities. They want to highlight that it is possible to unite around music. As the title of this concert states, together "there is so much beauty to save".

With :
Philippe Graffin / Justus Grimm / Amy Norrington / Olivier Roberti / Ana-Camelia Stefanescu / Christia Hudziy / Alexandra Cooreman / Zenne Quartet / Slatoslava Semchuk / Viktoriia Demkovska / Yaroslav Krushanivskyi / Sofia Dubii / Khrystyna Korchynska
Programme :
Schumann, Liszt, Debussy, Ravel, Rachmaninov, Sibelius, Gliere…

Among them are three 20-year-old musicians who have fled the war in recent months.

Entrance fee is €25.
All benefits will go to the Belgian Consortium 12-12 for the victims of the war in Ukraine.
There will be a bar from 6pm and after the concert.
Entrée
25 eur
Montants reversés au Consortium belge 12-12 pour venir en aide aux victimes du peuple ukrainien.

Horaires
Ouverture du bar à 18:00
Début du concert à 20:00

Lieu
Abbaye de la Cambre
1000 Bruxelles